A BRIEF HISTORY OF THE BARD AND HIS LEGACY
The mystery behind the 16th century Bard of Avon, William Shakespeare, is just as strong in the 21st century as it was in times past. Much of the mystery is based on the fact there is little biographical or personal history available to rely upon. Though facts surrounding Shakespeare's birth and early days of infancy were maintained through baptism records at the Holy Trinity Church, information regarding William Shakespeare's childhood is scarce. Much of William Shakespeare's life that is documented does so by various events or milestones. These include Shakespeare's infant baptism, his marriage, the birth of his twin children, and the launch of his playwriting and acting. Though certain facts regarding William Shakespeare's biographical history may be difficult to find, what remains is Shakespeare's enduring body of work that includes sonnets, comedies, tragedies, and historical features and plays.
The exact date of William Shakespeare's birth and death are uncertain, but tradition indicates he was born on April 23, 1564 and passed away on his birthday, April 23, 1616. It is unclear whether this is a romantic notion or fact. If the dates are wrong, evidence shows that they were close to the accurate days. Shakespeare was baptized at the Holy Trinity Church Stratford-upon-Avon on April 26, 1564. He was interred at the church on April 25, 1616. Exactly where William Shakespeare attended school is also unknown. Due to the fact there are no records of Shakespeare having attended a university, some argue that Shakespeare did not author his works. Some suspect that Shakespeare simply did not have enough education to have produced the beautiful odes, sonnets, and plays that bear his name.
Information regarding William Shakespeare's early years includes his parents' names: John Shakespeare and Mary Arden Shakespeare. Church records show that Shakespeare was the third child out of eight. Three of his siblings had passed away during their childhoods. The exact grammar school young William attended is also up for debate, and point to Shakespeare's advanced knowledge of Greek and Latin to indicate he may have attended a free school. Information regarding the remainder of Shakespeare's childhood is unknown.
On November 28, 1582, William Shakespeare married Anne Hathaway. On May 26, 1583, the couple's first child, Susanna, was born. Approximately two years later, on February 2, 1585, the Shakespeares welcomed twins into the world: Hamnet and Judith. Tragedy would befall the family and on August 11, 1596, at 11-years-old, Hamnet passed away.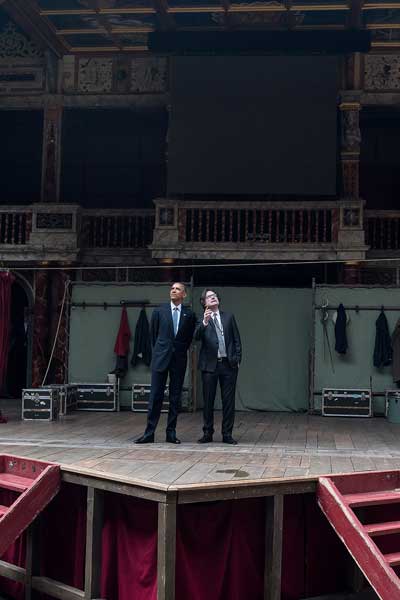 It is estimated that Shakespeare first started working as an actor and playwright in 1588, and by 1594, Shakespeare had grown in prominence and worked with the King's Men, a popular London troupe, which would become the most successful. William Shakespeare is one of the rare individuals who enjoyed the fruits of his success while still living. As a writer, Shakespeare enjoyed tremendous fame and success that continues to surround him more than 420 years later. William Shakespeare is revered as one of the world's greatest writers.
Visit the resources below to learn more about William Shakespeare.