Lin-Manual Miranda is famous for his achievements in music composition and lyrics, and the creation of some of the most popular musicals on Broadway. He was born in 1980 in New York City to Luis and Luz Miranda and in the Manhattan neighborhood known as Inwood. A poem was written by José Santiago about the Vietnam war, Nana roja para mi hijo Lin Manuel, served as the inspiration for his name. His creativity manifested early in his life when he wrote a musical jingle that Elliot Spitzer eventually used during his successful run for the office of Governor of New York in 2006. He attended Hunter College High School and Wesleyan University and has received honorary degrees from Yeshiva University, Wesleyan, and the University of Pennsylvania.
Lin-Manuel Miranda is famous for many achievements, including composing the Broadway musicals Hamilton and In The Heights which he also performed in.  He's also written music for films like Disney's Star Wars: The Force Awakens and Moana, and the album, The Hamilton Mixtape. He has appeared on popular television shows such as Sesame Street, The Sopranos, and House, and will star in the upcoming, Mary Poppins Returns. His play Hamilton, which has garnered him the greatest level of success, has several sources of inspiration, the most prominent being the book Alexander Hamilton by Ron Chernow. In an interview, he has said that the first two songs of his play are lifted directly from the books first two chapters. He was also inspired by the books Founding Brothers and American Creation, which are written by Joseph J. Ellis, and by H.W. Brands' book, The Heartbreak of Aaron Burr. Books were not his only source of inspiration. He has also cited the musicals Evita, Jesus Christ Superstar, Les Miserables, and the television drama The West Wing as sources of inspiration, as well as rappers, Biggie Smalls and Jay-Z.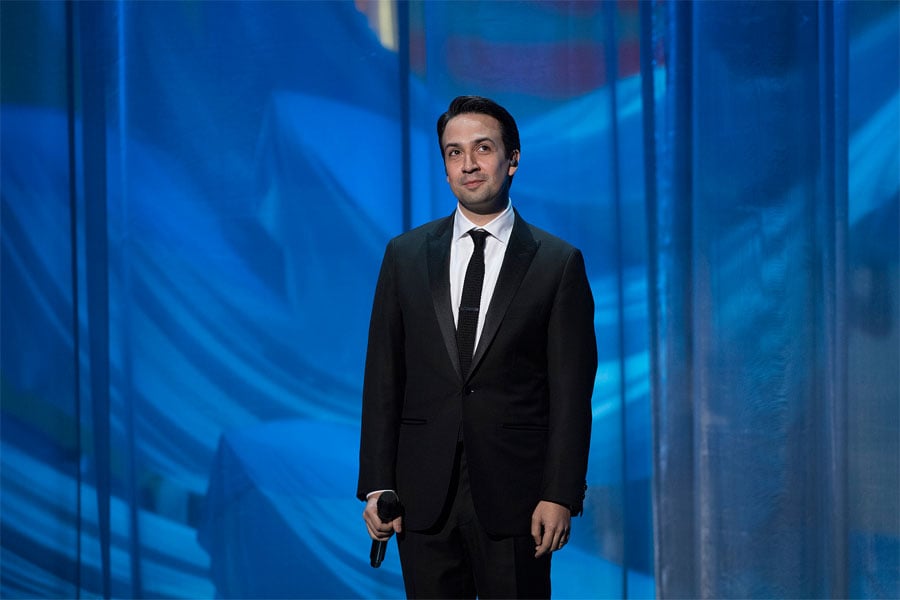 This playwright, actor, and songwriter have a long list of awards and honors. A few of these include an Obie Award for Music, an Obie Award for Music and Lyrics, and an Outer Critics Circle Award for Outstanding Off-Broadway Musical for In the Heights in 2007. In 2015, Miranda was the recipient of a number of awards for Hamilton, some of which are an Outer Critics Circle Award for Outstanding Book of a Musical, an Obie Award for Best New American Play, and a Drama Desk Award for Outstanding Lyrics. In 2016, Hamilton won the Pulitzer Prize for Drama and a Grammy Award for Best Musical Theater Album, and it won 11 Tony awards in 2016. Miranda has also received a 2018 Grammy Award for Best Song Written for Visual Media for How Far I'll Go. Additionally, he was also the recipient of the MacArthur genius grant in 2015.
Although he is known for his musical body of work, Miranda, who attended a school for gifted children as a child, was also a member of a comedy/improve rap troupe called Freestyle Love Supreme. Although his life has brought him fame, his life could have been very different. After his graduation from Wesleyan University, Miranda was a substitute teacher at a high school, which had offered him a full-time job as an English teacher. When producer Kevin McCollum, showed interest in his work, Miranda found himself at a crossroads. He could take the job or work part-time as a substitute and continue to pursue his dreams and write fulltime. With the encouragement of his father, he continued to write which eventually led to his many successes.