Whether you own a public cinema, auditorium, church, or any other corporation seeking theater seats, the Theater Seat Store can help. Our team of specialists can fulfill any sized order with volume pricing discounts and most special requests. Selecting seating for your business is an important decision. Our teams of experts have listed a few best practices to guide you through this process.
The commercial client's experience should be much like the individual client experience when it comes to buying theater seats, with a few exceptions. Firstly, commercial businesses will most likely not place orders for very luxurious seating. Businesses like movie theaters are looking for theater chairs that are easily cleanable and less expensive. Few companies are buying movie theater leather recliners, with massage options and wood trims. These seats would be far too expensive and easily broken by a customer base.
Commercial clients may buy less expensive models than individuals but they often order far more models. An average theater will buy 225 seats per screen and the majority of theaters have at least several screens. So most commercial clients will buy a large number of theater seats. Most commercial clients will buy the same style seat as well so that the theater has a brand consistency. Let's take a look at what commercial clients should consider when selecting theater seating for their business.
Similar to individuals seeking seating for their home theater, commercial clients need to consider comfort as an essential factor when deciding to purchase seating. Having comfortable seating will keep patrons of all ages coming back by making the viewing experience more enjoyable for customers. Although commercial theater seats are not usually equipped with such creature comforts as power recline and adjustable headrests, they do incorporate some of the comfort features of their home theatre seating cousins. One of these features is tufted or pub style seat backs to provide additional lumbar support. This is important as today's film epics can be over two hours long. Another comfortable feature is rocking seatbacks that allow people to shift comfortably during a show. Of course, most modern theater seats all come with conveniences like cupholders and fold-up arms.
Managing expenses are the number one constraint for commercial clients seeking theater seating. Most commercial clients receive discounts for high-volume orders. Commercial clients should not only research listed prices of seating but also work with vendor representatives to work out discounted rates on bulk orders. This will help in finding the best deal possible.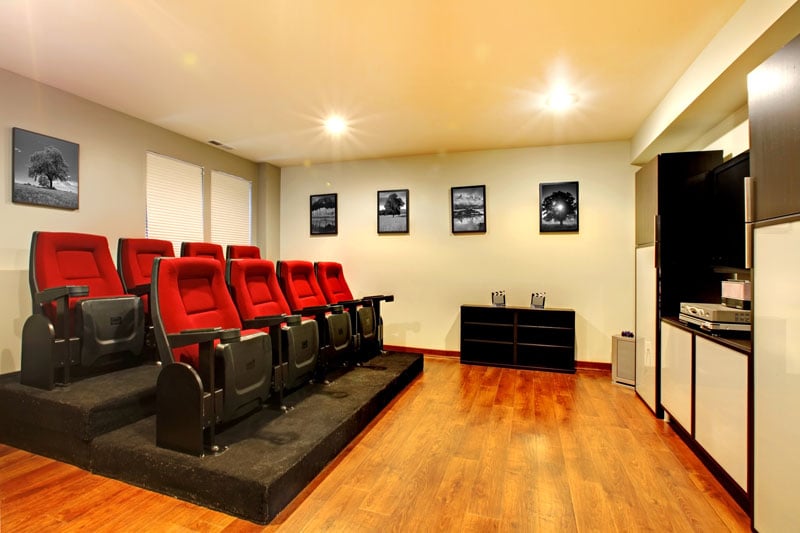 Commercial clients should also consider maintenance and seat cleaning services. Compared to home theaters, public seating will be treated more harshly and is likely to need continual cleaning and fixing throughout the years. It is important for commercial clients to invest in theater seats that are durable and long-lasting. One important choice is whether to order seats in fabric or microfiber upholstery.
Below are some helpful links to information that may be helpful in your commercial theater seat buying process.