Another significant consideration is the extent to which you want to create a bachelor pad. Many people's definition of a bachelor pad is to ensure your whole property is kitted out in a specific way.
Yet, if you want to create one specific "manly" space in your home and then leave the rest more neutral, there's nothing wrong with doing so. You'll gain a wonderful area where you can switch off and relax.
You'll then keep the rest of your place to use if you need to work from home or simply don't want to be connected to your home theater or gaming room every waking hour you're home.
Whatever approach you take, there'll be several
characteristics you want to have on-point:
Style &
Sophistication
Functionality
Luxury and flair
Those all mean different things to different people. Yet, you don't need to pay an expensive interior designer to come into your home and help you achieve taste and balance in your décor.
You don't even need to approach creating your bachelor pad thinking about "must-haves." That said, the best modern pads will share some standard features.
What will your bachelor pad look like
and include?
If you're unsure where to start, check out these 18 brilliant bachelor pad ideas for inspiration. We've got everything from cool living room ideas to simple décor trends you might want to consider.

First, you have the option to create a traditional home theater in a commonly used location like your basement or attic space.
However, if it's your space and you live alone, your bachelor pad's living room could easily double as your home theater.
If your living space doubles as your home theater, you might not necessarily want your favorite movie posters and memorabilia on the wall. Still, if you don't mind having that stuff and it makes a truly masculine living space, you'll have one of the coolest pads around!
The most significant essential feature of your home theater is, of course, your television. Still, if you're investing in a stylish bachelor pad, you should look to include home theater seats to enhance your comfort, and think about other features you can fit into the room.
A top-quality sound system should also feature high on your wish list!
Speaking of sound systems, it doesn't take much to turn a home theater into a full-on audio-visual entertainment center.
If you haven't already done so with your home theater, the first thing to do is to invest in a top-end surround sound system. We'd suggest going for a 7.1 or even a 7.2 setup.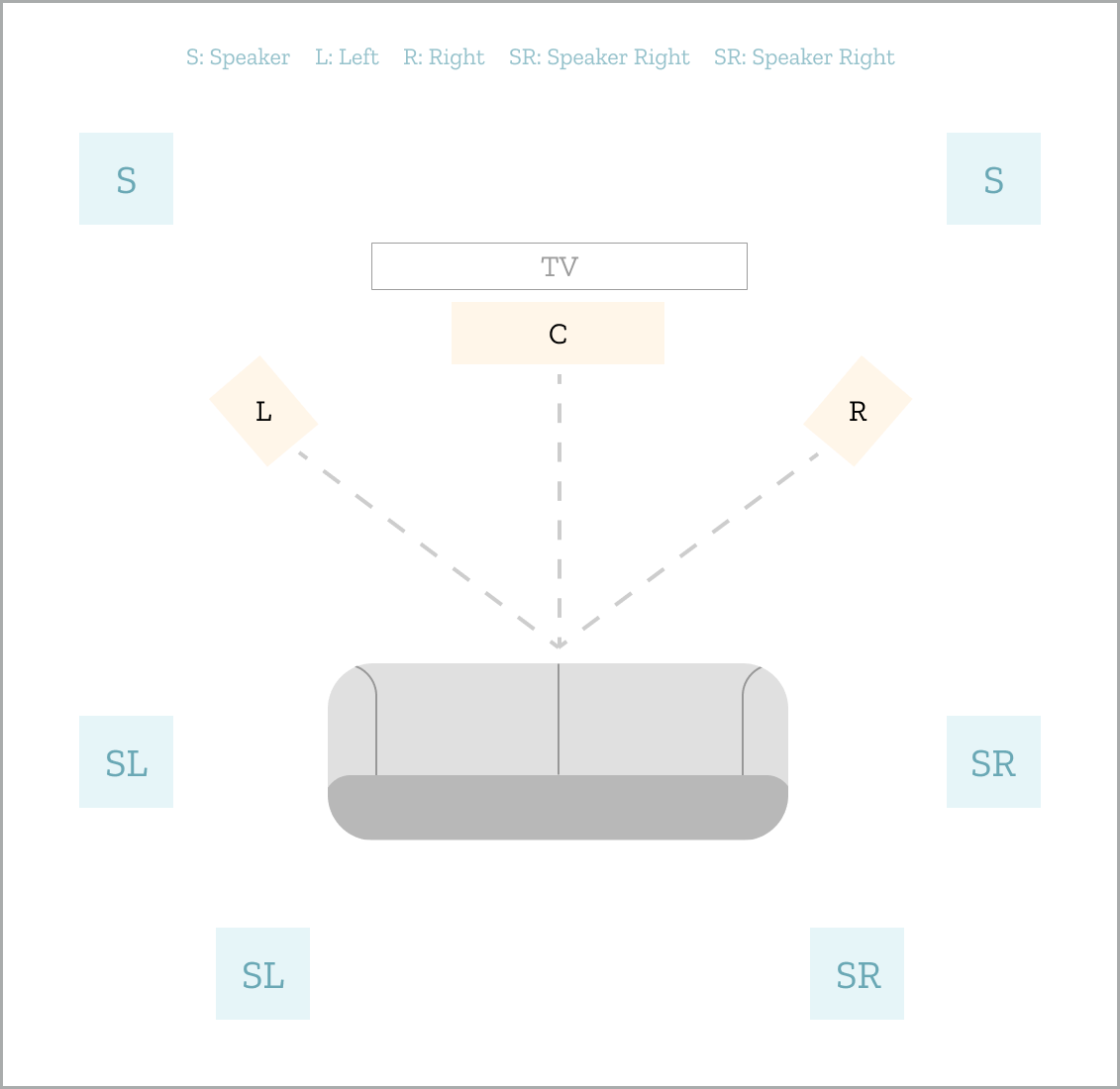 It's also worth giving some thought to putting your speakers in the walls, ceiling, and floor if you're able to. Not only does this save you floor space, but you'll also get a more immersive sound experience and enjoy your room to an even greater extent.
Hooking up a Blu-Ray player to your TV is a given, but you could also think about adding a games console to your setup.
You can put more of a focus on the audio aspect, too. If you're a music lover, there are hundreds of options available for subwoofer and home speaker systems.
By investing in a quality brand, you'll be able to connect your sound system to everything and use this for both your TV and music. You could even extend your entertainment center around your home by using Wi-Fi and Bluetooth enabled speakers. Why not connect them up and play your music in all rooms at once?!
A bachelor pad doesn't have to be all about entertainment and in your face media.
A relaxation room can be an excellent addition to your bachelor pad. It can be somewhere different to go when you're not feeling another movie or be your pad's main feature.
There are many things you can do to make a
room feel relaxing, such as:

Removing electrical sockets
So you're not tempted to add a TV or
charge your smartphone

Use Neutral Colors
Adding furniture to specifically address
your desire to relax. Leather sofas and
armchairs filled with cushions work
brilliantly
These ideas are merely looking at relaxation in the context of
switching off.
What does relaxation mean to you?
reading
Beer
Music
Gaming
Console
Still, it's always worth having even a small space in your home that isn't so
intense and where you're comfortable just sitting doing nothing.
Retro trends can be a fantastic choice when putting together a bachelor pad. If you're looking for a feature that will entertain you and provide a cool talking point for guests, you can't go far wrong with arcade games.
The best thing about this particular trend is that arcade cabinets for games like Pac Man and Street Fighter are widely produced today. They're not incredibly expensive, either, giving you plenty of scope in your budget to add even more to your pad.
This is custom heading element
Perhaps the most significant thing to consider when bringing arcade games into your place is what goes around them. Having a Street Fighter cabinet is cool, but if it's sitting against the wall in a modern surround, it'll look nothing but out of place. You don't have to retro up your whole room if you don't want to, but you should make sure an arcade game looks like it's meant to be there, rather than someone the last occupant left behind!
One more thing to be aware of: your friends will never want to leave!
If you're looking to make a statement with your bachelor pad, incorporating elements that will make people take notice when you're telling them about it is a must.
Home theaters and entertainment centers are fantastic features, but increasing numbers of people have them. Sometimes, all you'll end up doing is discussing who has the best home theater setup or sound system. Usually, with the annoying guy at work who always has to outdo everyone else! Even arcade games might end up being relatively common and in many properties!
In contrast, few people can say they've got a bowling alley in their home!
Granted, unless you're lucky in terms of the space you have, you might not be able to fit in the full works in terms of electronic scoring and instant ball return. If you can, that would be off the scale impressive!
If you love playing golf, there's nothing like it. As well as being a fantastic hobby, golf is an excellent opportunity to socialize and spend time with your friends. And there are still people who call golf an expensive way of spoiling a good walk!
Factors that
affect the outside
golf playing
weather
The weather doesn't
always play ball

Distance
Depending on where you live, you might
need a stroke of luck to have a golf
course of a reasonable standard within
driving distance – no pun intended!
This is where a golf simulator can come into play. If you've ever been to a golf expo or watched the analysis during gold commentary, you'll know what one of these is. You install a massive screen in your home, along with the tech that picks up the plane of your golf swing to project where the ball will go.
You play from a specialized mat and have a selection of the world's most outstanding golf courses in front of you from the comfort of your own home.
Nothing beats playing the real Pebble Beach, but being able to do so from your home sure comes close!
All the ideas thus far, perhaps with the arguable exception of the relaxation room, have been typically masculine. Many of you will have read through this far and feel like you want to have all those ideas in one place.
What's stopping you?
If you have space, then turning your bachelor pad into the ultimate
man cave is a great direction to take.
You might not be able to fit everything into your area. Still, you don't have to have a room that's just a home theater or that only contains a bowling alley or golf simulator.
Depending on your interests, your man cave might not even have any of the elements discussed so far!
Alternative options for a man cave might be:
To turn the space into an
art studio or another
type of creative space
Use your man cave as
an office space
To turn it into a bar
space, with features like
a dartboard or pool table
To feature something
else sporty, like a
table tennis table.
If you want to get stylish and have space and the budget, think about getting a swimming pool built or even turning your area into an indoor tennis court!
It's your man cave, so build it for you!
One of the most iconic movie sets from the last 30 years is the Jack Rabbit Slim's scene in Pulp Fiction. Going back further, pop culture phenomena Grease and Happy Days have also provided 50's diner décor inspiration for probably thousands of homes around the world.
Whether as part of a man cave or as a standalone space, a bar and diner can be a fantastic feature of a bachelor pad.
Our inspiration for this idea was an old-school bar and diner set up. Still, if you want to go classic and rustic, there's plenty of mileage in using wooden décor and features to create a traditional style British pub in your home.
If you don't have the space for a dedicated bar and diner area, that doesn't have to stop you from embracing this trend.
Can you kit out your kitchen with black and white tiling with red leather seating and chrome tables? If you have an open plan kitchen and living area, this can be a great way to split your kitchen and living space. If you want elements like arcade games in your room, having a diner table and chairs will bring that old-school feel to your room and avoid your gaming cabinet feeling out of place.
One of the great things about shaping your bachelor pad in your image is that you don't need to go full-on with statement pieces like a bowling alley. You might not even want to spend too much money on your home theater.
Instead, you might choose to pursue an interest or passion. One such option might be to collect art and display it within your property.
There's something of a misconception that to appreciate fine art you need to "know what you're talking about." However, there's nothing wrong with having paintings on your wall simply because you like looking at them.
The beauty of using artwork as your primary décor feature is that you can still follow a style that fits what you like and your home's overall feel.
You don't need to spend thousands of dollars on fine art from well-known painters, either. Many artists today choose to sell their original work online.
You pay less for a beautiful piece of décor as you're avoiding art gallery or seller mark-up while giving your cash directly to the artist for their work.
Everyone's a winner financially, and your home gets to look incredible!
Going 100% vintage can be expensive, especially if you look for genuine mid-century furniture in excellent condition. Reproduction furniture doesn't look bad, but it's not a patch on the real thing, particularly when bringing a sense of authenticity into your home.
However, you don't need to turn your entire home vintage. Making just one room vintage may make your pad feel like it doesn't flow from one room to another. To avoid this, consider using vintage furniture as statement pieces in specific rooms.
One common mistake people make when opting for vintage furniture is to focus solely on how it looks. Despite being old, high-quality vintage armchairs can still be comfortable and durable thanks to their hard-wearing nature. Sure, you might need to replace the cushions. You may even decide to undertake a reupholstery project, but don't let that stop you from having a vintage sofa if you want one.
You'd be surprised how cool such a sofa looks in front of a widescreen TV!
If you aren't a fan of geometric interior design, the chances are you'll find it quite clinical and maybe even soulless.
However, if you enjoy geometric design, you'll find it uplifting and that it gives your space a real sense of energy.
Geometric design is another trend that many people misinterpret, often believing it means you'll fill your home with square furniture and right angles.
You can certainly use those in your bachelor pad. Still, you can also combine this look with sleek curves and colorful patterns to create an effortless contrast in your rooms.
If you opt for a geometry inspired décor, it's also worth thinking about color schemes. Block color clashes like black and white can bring the focus back onto the color and away from your straight edges, while also helping things with curves like tables, chairs, and soft furnishings look even more stylish.
If you want your bachelor pad to feel inviting and luxurious, the materials you use will go a long way to achieving this.
The best place to start is with leather.
You might even opt for a leather framed bed, although you would need to think about how this would fit in with the rest of your bachelor pad's décor.
Opting for leather furniture alone is a fantastic way to raise the feeling of luxury. If you want to take this feeling a step further, combine leather with other materials when buying things like cushions.
Velvet and faux fur, for example, are excellent additions to your sofa. You might also incorporate a leather sofa or armchair with wooden floors adorned with a cow-hide rug.
One other thing to consider is the type of leather you go for. As you'll be living alone, opt for the most expensive raw leather for the best look and ultimate in hard-wearing comfort.
Depending on your overall décor themes, give some thought to the color of leather you'd like to bring into your stylish pad, too.
Planning to make your bachelor's pad more luxurious with premium quality leather furniture? Read this guide to know more about identifying and choosing best quality leather.
Click Here to Read
Minimalist interior design trends are fantastic, although minimalism is somewhat contrarian to what many people think about when it comes to a bachelor bad. Still, there's nothing to say that you have to fill your place with stuff.
When you embrace minimalism, you'll have less clutter, which in turn will clear your mind and make it easier to relax, a double win! On top of that, you'll save a fortune on buying furniture, and when you need to move, it'll be much easier to do so.
As a bonus tip, if your girlfriend moves in down the line, you'll have fewer arguments about what gets kept. She can fit in with your minimalism, or you can accept that she'll bring some of her decorative pieces with her.
The biggest trick with minimalism is to recognize that it isn't just about not having much stuff. You also need to make sure that the things you do own go together.
If you embrace minimalism and your living space consists of nothing but a sofa, coffee table, and wall-mounted TV, the sofa and coffee table should complement each other. Also, these should fit in with the broader décor of the room.
What we've just said there doesn't sound any different to everyday decorating advice. Still, you'd be amazed how many people want to be minimalist, then do a lousy job by buying furniture that clashes to make a room feel fuller!
Embrace the space, and make sure what you do buy fits together!
Another option when it comes to minimalism is to let the interior of your property drive your décor.
If you have exposed wooden beams or brickwork, or wooden floors, these can be a fantastic starting point for your design and provide the main focus of your room or the whole pad.
Whatever primary trend or feature you decide to include in your man cave, one of the best ways to ensure your bachelor pad looks cool is to minimize the colors you use.
No-one wants to live in a monochrome pad. As stylish as different shades of gray can look, the chances are that you'll get bored with your décor and interior design very quickly.
Before you get to choose colors, give some thought to your approach.
Will you adopt the same color scheme across your home, or use different colors in specific rooms? If you're looking to create a man cave or confine the bachelor pad elements of your home to a particular space, you can always make this unique in terms of the color schemes you use.
Industrial interior design doesn't mean making your bachelor pad look like a factory!
However, as we suggested when discussing minimalist interior design, you would be relying on the building's main structure. You'll also use features like wooden or stone floors and exposed brickwork to set the scene of your room. This trend works brilliantly for a bachelor pad if you're able to rely heavily on natural light.
If you own a house and want to
follow industrial design trends,
Bigger windows
South-facing property with large windows already!
On top of taking advantage of your property's natural features, you should also look to enhance this with wooden furniture and the use of dark browns for your sofa and other seating. Rugs and large plants will look brilliant in your industrial-inspired space, too.
Hands up if you've seen Iron Man?
Even if you're not a Marvel fan, you probably know all about Tony Stark's hi-tech house. Why not make tech the centerpiece of your bachelor pad? Sure, you might have smart speakers and Wi-Fi and Bluetooth enabled surround sound, but tech and AI could help run your entire home while keeping you connected to what you want to know.
Modern technology hasn't yet reached the stage where you'll be able to visualize the globe in your bedroom. Likewise, you might decide that your 6 am alarm call is a little early for you to put your virtual reality headset to use!
Think about kitting out your bachelor pad with heating and lighting systems that you can automate or operate via an app, too, and give yourself the ultimate smart home!
What do you love doing?
You might also have an interest that we haven't mentioned here. If you're passionate about football or baseball, you could have memorabilia such as framed jerseys or equipment around your home.
These can sometimes be expensive to get your hands on, but if you have a passion for something, they're always worth it. Sporting passions can work great alongside creating a space for a bar in your home.
What better than having your friends round for a couple of beers while watching the game or a fight with a Superbowl worn jersey or signed championship-winning boxing glove on the wall?
Earlier, we jokingly mentioned that a few features you could put in your bachelor pad would make it difficult to get your buddies to leave.
While you should create your bachelor pad for yourself first and foremost, where's the fun in not sharing it with your friends?
As part of designing your pad, think about whether you want space to entertain guests. This might mean planning space for dinner parties or simply ensuring there are enough seats when it's your turn to host movie or gaming night.
There you have it! With so much choice for creating the perfect bachelor pad, you have everything you need to start building your ideal space.
The one thing you shouldn't do is start buying stuff without having a plan. Spend some time creating a vision and thinking about what living your best life looks like while spending time at home.
While creating your Bachelor's Pad
You take direct inspiration from
the ideas and pictures we've
given you here
Take different elements from
various ideas to create something
unique, it doesn't matter.
The objective here is for you to create a bachelor pad that
speaks to your personality and gives you the space you need to
kick back and relax whenever you wish.
Best of all, you'll get to have loads of fun putting your bachelor pad together as well as enjoying it when you've finished the job.
What are you waiting for?