Marilyn Monroe is widely regarded as the most iconic Hollywood actress of all time. Her sensuality, upbeat personality, beauty mark, and platinum hair made her an unforgettable sex symbol of the 20th century. She is also known for her high-profile marriages and divorces, as well as romances with some of the most respected men of her time.
When Marilyn Monroe was born on the 1st of June, 1926 in Los Angeles County, she was named Norma Jeane Mortenson. Her name was changed to Norma Jeane Baker after she was baptized.
She was the third child of a woman called Gladys Pearl Baker, and the identity of her father could not be ascertained. Marilyn Monroe's mother was poor and mentally unstable, and she was unable to take care of her. As such, a large part of her childhood was spent in foster homes.
In her late teenage years, Norma Jeane worked at the Radioplane Munitions Factory. Her captivating beauty was first noticed by an army photographer called David Conover, who took a photograph of her while he was visiting the factory. The photographer also encouraged her to become a model at The Blue Book Modeling Agency, and she quickly became one of the agency's most successful models.
Her success as a model caught the attention of a 20th Century Fox executive called Ben Lyon. Lyon offered her a six-month contract after a successful screen test and gave her the stage name Marilyn Monroe. Marilyn Monroe began to appear in many films, and soon, she was working with some of the biggest Hollywood stars.
Her rise to fame gave her the opportunity to meet many famous personalities, and she made the acquaintance of legendary baseball player Joe DiMaggio. She married the baseball icon, but the marriage did not last long. Meantime, her career as an actress continued to blossom, and she became one of the most famous actresses in the world.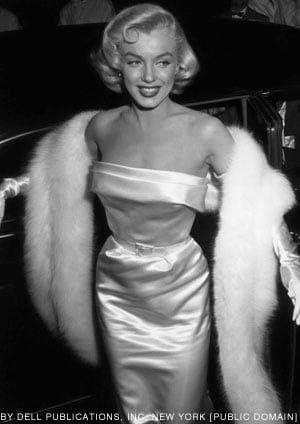 After achieving great fame, Marilyn Monroe wanted to improve her acting skills, and she enrolled in the prestigious Actor's Studio in New York in the year 1955. The following year, she married accomplished playwright Arthur Miller. She tried to have children with Miller, but she suffered a number of miscarriages.
After the Miller marriage ended in 1961, she did not complete another film. Throughout her career, Marilyn Monroe appeared in more than 20 movies, and the most famous ones were Gentlemen Prefer Blondes, How to Marry a Millionaire, There's No Business Like Show Business, River of No Return, Seven Year Itch, Bus Stop, The Prince and the Showgirl, and Some Like It Hot.
One of Marilyn Monroe's most memorable performances took place in 1962. She sang the "Happy Birthday" song to President John F. Kennedy in a breathless and sensual way at the Madison Square Garden. This resulted in rumors that she was romantically linked to the president.
A few months after the performance, she overdosed on pills and passed away.