When Avatar exploded the screens last year, the box office smash took $2.7bn worldwide and became the highest-grossing movie ever and by a gigantic margin. Not only was James Cameron's visual extravaganza a financial success, but it heralded a new era in 3D technology (and while it certainly wasn't the first 3D movie, it was the behemoth that really made the industry and viewers sit up and pay attention).
In our guide to 3D entertainment, we'll take a look at where the craze started, how it all works and what we can expect in the future.
Though 3D technology is seeing a massive surge in popularity, its origin lies as far back as the beginnings of photography. Sir Charles Wheatstone developed the stereoscope in 1838, allowing users to create three-dimensional images from a set of 2D pictures or drawings.
In film, 3D technology may seem like a fairly recent trend but in reality, there were roughly as many 3D movies released between the 1922 and 2000 as there has been over the last ten years. Before the 90s (and particularly during the 50s), pioneering methods of various successes were toyed with, including those red and cyan anaglyph glasses we've all come to know.
An incredibly detailed list of all movies in 3D can be found here, as well as where to buy them if available: http://www.3dmovielist.com/list.html
In the real world, our depth perception is very precise. There are a few mechanisms at play here, but the main method we subconsciously use to judge the distance of objects is convergence. Simply put, focusing on something with two eyes means that they need to rotate inward – if they converge a lot, the object is close and vice-versa.
Interestingly, this also explains why pigeons bob their heads – they can't view the same thing with both eyes simultaneously, so they have to rely on this bobbing motion to get the two different viewing angles needed to work out distances. For us, our two eyes provide these points of reference instantly.
In terms of cinema, there are a number of ways of recreating this affect on a flat screen. The trick is to give each eye a different perspective – the traditional red/cyan glasses achieve this by using colored filters, whereas the RealD 3D glasses commonly used nowadays have polarized lenses to separate the images each eye sees. Of course, there's slightly more to it than that; for a really good guide on how anaglyph and modern 3D films work, we highly recommend the following:
For a detailed explanation on anaglyph glasses (also has some pros and cons of other methods), visit: http://www.heuserlab.wustl.edu/procedures/3d.shtml
A concise guide to new 3D technology can be found here:
http://www.3d-tvbuyingguide.com/3dtv/3d-glasses.html
Finally, a good summary all of the above is located here: https://techcrunch.com/2010/06/19/a-guide-to-3d-display-technology-its-principles-methods-and-dangers/
But enough of the technical stuff, let's get to what you really want to know…
What do I need to watch 3D TV?
Technology is fast developing and is surprisingly affordable (in the grand scheme of things). Blu-ray disks are the main format for 3D movies since they're able to show a separate high definition signal (1080p) for each eye and can be coded to split the two in a way necessary for 3D viewing.
So you've got a Blu-ray player. Are you good to go?
Sadly, no. There are two limitations here, the second of which we'll come to in a moment. Firstly, you'll need a dedicated 3D TV set in order to display it properly, which incorporates a converter chip along with software to break down the images and separate them from the left and right images. In order to gain the 3D effect, currently, glasses must be worn (either infrared or radio beam syncs). It also goes without saying that using 3D glasses on a normal television will not make the image you see look 3D, as they will need to be synchronized to the alternating images with LCD lenses inside the glasses. To enable the signal from your 3D television to be sent to your glasses, you will need a stereoscopic signal connector, which you will plug into a port in the 3D ready TV or monitor, while the other end of the plug goes to an IR emitter which will send the signal to your glasses. You will also need an HDMI lead to connect your Blu-ray player to your 3D TV.
Once you've got all of the above, you're all set… right?
Well, not quite.
What can I watch on my 3D TV set?
This is the aforementioned second problem, because the answer is "not a lot". Currently there are only a handful of Blu-ray discs available in 'true' 3D (i.e. as we see in theatres), and most of those are aimed at kids. At the time of writing, the hardly extensive list is:
Coraline
Ice Age 3
Monsters vs. Aliens
Cloudy with a Chance of Meatballs
Monster House
Street Dance 3D
My Bloody Valentine
Note that there are a few more 3D movies available but these have been converted from 2D to 3D and have received very poor early reception for their quality (Clash of the Titans being one of them). The good news is that things will get better and a slew of titles are being made commercially available as we run up to Christmas, including the 3D movie release everyone is waiting for.
For upcoming release dates, visit the regularly updated 3D Movie List: http://www.3dmovielist.com/3ddvds.html
Expect prices to be around $30-$50 per Blu-ray release.
Which 3D TV sets are available and how much do they cost?
Despite there being very little in the way of content, there are already a number of sets available, and when compared to plasma TVs of similar size the price jump is not all that much (though the higher limits, as with any television, can be an eye-popping amount).
The main competitors in the market so far include Mitsubishi, Samsung, Sony, Toshiba and Panasonic. Note that the need for glasses is still prevalent, costing around $100 but included with most bundles. There are rumblings that Toshiba are very close to releasing sets which do not require them, albeit with limitations such as small screen size and restricted viewing distances. See here for more information:
http://www.dailymail.co.uk/sciencetech/article-1317736/Toshiba-unveils-worlds-3D-TV-glasses.html.
Models Available: The latest models include the 628, 738 and 838.
Prices: The 638 series ranges in price from $1,199 to $1,999. The 738 series ranges from $1,399 to $3,799. The 838 series runs from $2,199 to $4,499.
Specs: Sizes range from 60 to 82 inches and feature DLP (digital light processing) technology, reported to be crisper than LED and LCD displays.
Models Available: 6000, 7000, 8000 and 9000 ranges.
Prices: Between $1,800 to $3,200
Specs: Samsung's current screen sizes go up to only 63", but the refresh rates are 240Hz compared to Mitsubishi's 120Hz (though both utilize DLP technology).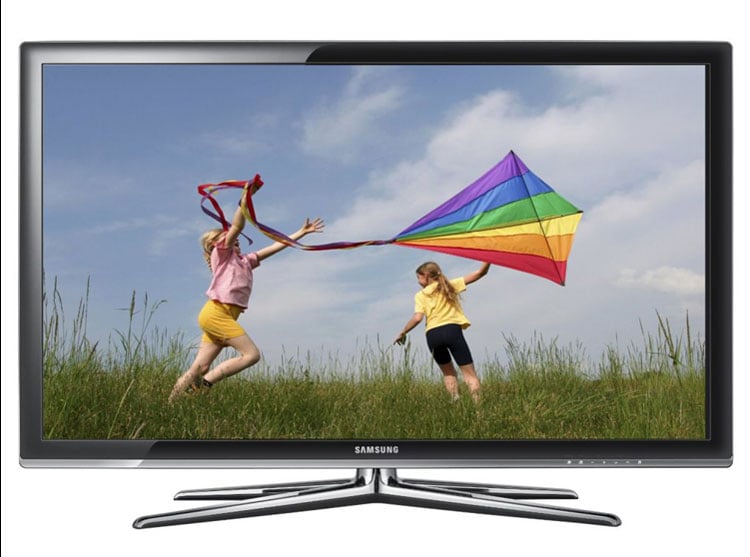 Models Available: The Bravia HX and LX range
Prices: Between $2,000 to $5,000.
Specs: Although the high-end LX900 series seems less competitive in price (around $4,000 for the 52" model and $5,000 for the 60"), it's important to know that this comes 3D ready right from the box. With the Sony HX models and those from other manufacturers, extra equipment is usually required. The LCD screens, from 40" to 60", are backlit with dynamic LED technology.
Models Available: The WX800U
Prices: Starting at $2,599
Specs: Currently available is the WX800U, a modestly-priced TV which gets the job done. The very-soon-to-be-released Toshiba Regza WL768 3D is a bit more pricey at around $6,000, but it justifies the price tag with integrated Wi-Fi, a 3cm thickness and an incredible amount of hardware support (4x HDMI, 2x USB, Scart, AV… you name it). The downside is that screen sizes only go up to 55" for both systems. Toshiba seem to be the only players really pushing for 3D TV without the need for glasses (autostereoscopic display), but its capabilities seem limited according to pre-release reports.
Models Available: The VIERA VT and GT series
Prices: Between $2,000 and $4,000
Specs: Screen sizes range from 50" to 65", though more compact models are due to hitting the Japanese markets. Other than the novel 'deep blacks' vivid contrast technology, they come with little frills other than being well priced. There is, however, a gigantic 152" model (that's the size of about nine 50" screens) which may become commercially available at some point: http://www.gizmag.com/panasonic-hd-3d/13842/
What is the future of 3D Entertainment?
3D technology isn't just aimed at televisions and the movies, but the gaming world. Nintendo are taking the 3D into the world of handheld consoles – in February 2011 Japan will be the first to experience the Nintendo 3DS, the first handheld 3D device without the need of glasses, prices will start at $299.
Since June 2010, the Sony Playstation 3 has had the capacity for 3D gaming in Europe and Japan, but only four games are available at present (Wipeout, Super Stardust, Pain and a demo of Motor Storm Pacific Drift) and the catch is you can only experience them on a 3D-enabled Sony Bravia TV.
After a few false starts, 3D gaming for the PC seems to be gathering speed. NVIDIA are the driving force here, having teamed up with developers to bring 400 games to compatibility with their 3D systems. Prices for the necessary desktop PC upgrades are just over $600 and include the 3D monitor, with laptop designs available also: http://www.nvidia.com/object/3d-vision-main.html
YouTube were quick of the mark with 3D support, but so far it extends only to anaglyph glasses and the 'crossed-eye' method. If you were ever any good at seeing Magic Eye posters, you'll enjoy this:
http://www.youtube.com/watch?v=V4Lzhg7yaZU&feature=player_embedded
YouTube are also looking to support the newer 3D format on the Sony Playstation 3, and we're sure the same support for 3D PC monitors will follow.
Other than SKY 3D in Korea (not to be confused with the British Sky Broadcasting in the U.K., often referred to as simply Sky) there are currently no 24/7 channels being broadcast solely in 3D. Several demonstration, sports events and pay-per-view movie broadcasts have been made on a number of channels around the world. Numerous channels in both the U.K. and the U.S. are looking to launch dedicated 3D platforms in 2001.