Palliser is the leader in contemporary home theater furnishings. Form selection to quality, Palliser makes the grade on every level. Art DeFehr, President, and CEO may have summed up the reasons Palliser leads the pack:  Design, innovation, and service coupled with a committed and competent staff that genuinely cares about the products they build and sell.
Palliser is committed to providing contemporarily designed home theater seating for its customers. Contemporary seating works well for home theater owners with an eclectic style. By designing contemporary pieces that will work well no matter what the general décor of a room, Palliser has managed to design a line that is as functional as it is beautiful. The typical sleek lines the contemporary genre is known for is used throughout the home theater line. Each piece is designed with the second contemporary principle as well:  they are functional. Palliser has beautifully achieved the look and feel of contemporary theater seating.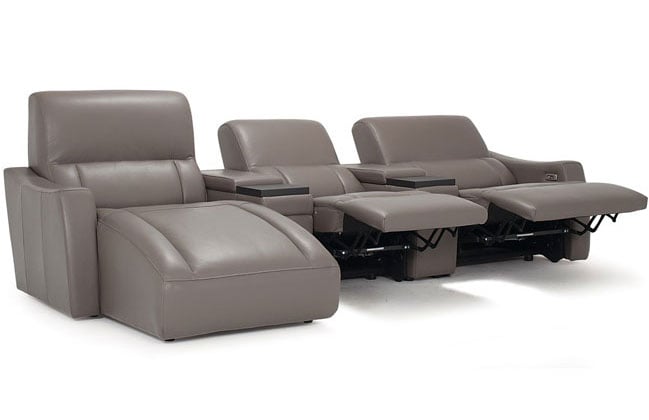 Like anything, innovation is of paramount importance when designing and producing contemporary home theater seating. By implementing several unique features into all of their home theater seating options, Palliser has created an interesting furniture line that blends technology with comfort.
Palliser is also committed to providing excellent service to all of their customers. This belief in quality service goes beyond providing a well-made furniture piece. At Palliser, service encompasses their warranty and safety policies as well.
Warranty: Palliser stands behind the materials and craftsmanship in each of their home theater pieces. Various warranty packages are available to cover upholstery, including leather and wood furniture pieces.  By working closely with the authorized Palliser dealer where the home theater-seating piece was originally purchased, the process is simple and direct.
Product Safety: Palliser designs all of its home theater seating pieces to meet standard safety measures. In the event that a safety concern does arise regarding a product already on the market, Palliser is committed to voluntarily recalling these products. Recall information is easily found on the Palliser web page.
Palliser was founded in 1944 by Abram Albert DeFehr. His small, basement based business has grown overtime to become one of the leaders of the Canadian furniture business. The more than 4000 employees stand behind the ideals set forth by the founder and the current president.  With a mission to become "a community of people dedicated to leadership in design, service and customer value in the furniture industry," they are constantly using these ideals to guide them as they design new and innovative home theater seating pieces. Their values, which include faith, integrity and dignity, have led them to become not only a leader in furniture design and production, but a community leader as well.
When you combine design, innovation, service and a committed staff, what you come up with is Palliser theater seating designs. They have multiple designs to choose from. Below are some of their most popular:
Palliser's belief in quality materials, innovative features, unique designs and talented staff has made them the leader in contemporary home theater seating. Visit a certified Palliser dealer today for a hands-on look at these beautiful chairs. You will see why Palliser stands out among the pack when it comes to Palliser home theater seating.