A CLOSE LOOK AT THE CLASSIC STORY & IT'S VARIATIONS
The story of Little Red Riding Hood is a classic fairy tale for children. In fact, it has been popular for a very long time. The earliest version of the story was recorded as far back as the 10th century in France! Over the years, Little Red Riding Hood was told from one person to another, and it entered many other countries and cultures. Of course, when this happens, the story changes a little bit, much like a game of Telephone. Let's read on to discover how the current version of Little Red Riding Hood reached us today.
Most of us already know the basic version of Little Red Riding Hood. In the story, the little girl is on her way through the forest to visit her grandmother, who is quite ill. She takes a basket of delicious food with her. In the forest, Little Red Riding Hood comes upon a scary wolf. He finds out where she is heading and then races there first. He devours the poor grandmother then lies in wait for the girl. Little Red Riding Hood arrives and she is swallowed too! Fortunately, a woodcutter comes by and cuts open the wolf, saving Granny and Red.
In earlier versions, the story was a lot scarier. However, since it is so often told to children, people began to make it less frightening. For example, some variants have the grandmother locked in a closet instead of being eaten. In other versions of the story, Little Red Riding Hood manages to escape by tricking the wolf and without having to wait for someone to save her. Sometimes she does not wear a red cape at all, so her name is different.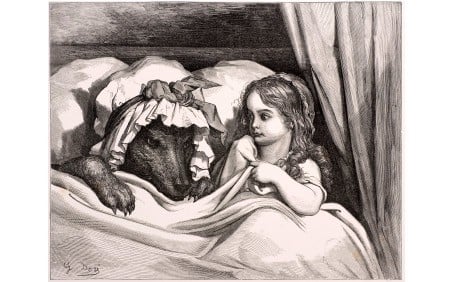 No matter how different the stories are, Little Red Riding Hood definitely does offer a couple of valuable warnings. The first lesson is that it can be dangerous for children to venture outside alone. It always helps to take an adult or at least an older sibling along. The second important moral is that even though some strangers might seem quite nice, it might be quite dangerous to talk to them. Like the wolf, we never quite know who the stranger might turn out to be!
Eager to learn more about Little Red Riding Hood? The following resources offer plenty of lesson plans, games, activities, and worksheets for kids: