One of the lesser-known musical instruments is the theater organ, a massive instrument consisting of pipes, keyboards, and pedals. The pipes are sold in sets called ranks, with each set of pipes producing similar pitches and timbres. It took thousands of years to develop this instrument, as inventors faced the challenge of having to pressurize air and force it through the instrument's pipes. Theater organ history took a major leap when once the Rudolph Wurlitzer Company bought a pipe organ design from a rather unsuccessful inventor, they used the popularity of the silent film industry to sell a number of models. Although many organizations no longer use the theater organ, there are still several dozens in use throughout the world.
ORIGIN OF THE THEATER ORGAN
The very first theater organ was not designed in the 1800s or 1900s. An innovative man named Ctesibius of Alexandria built the first pipe organ in approximately B.C. 200. The instrument was called the hydraulis because it used water pressure to regulate the pressurized wind needed to produce sound in the pipes. This was a very rudimentary form of the modern theater organ, but it sparked an interest in using pipes to make music.
The availability of electricity made it much easier for inventors and engineers to create better organ models. Robert Hope-Jones developed a new organ design in the 1800s, but he was never able to make money from his idea. He sold his business to a musical instrument company called The Rudolph Wurlitzer Company.
When he sold his business to Wurlitzer in approximately 1910, the film industry was gaining popularity around the world. At this time, there was no way to reproduce sound for large movie audiences. Movie theater owners experimented with the idea of adding music to silent films as a way to set their theaters apart from competing theaters. Some exhibitors used the piano, but the piano music did not fill large spaces. Large companies used orchestras to accompany silent films, but this was a significant expense. Wurlitzer capitalized on this opportunity and started selling pipe organs to theaters.
Brief History of Organs and Organ Music – This article discusses how organs work and include the history of the organ.
Northwest Theater Organ History – This guide explains how some of the theater organs in the Northwest were repurposed in skating rinks, social clubs, and restaurants. It also links to information on the original theater organs in Oregon, Washington, Montana, Idaho, Alaska, and British Columbia.
What is a Theater Pipe Organ? – This guide explains what a theater organ is and includes a photo of this instrument.
The Theater Organ and Its History of Innovation – This article discusses the history of the theater organ and talks about some of the pioneers of this instrument.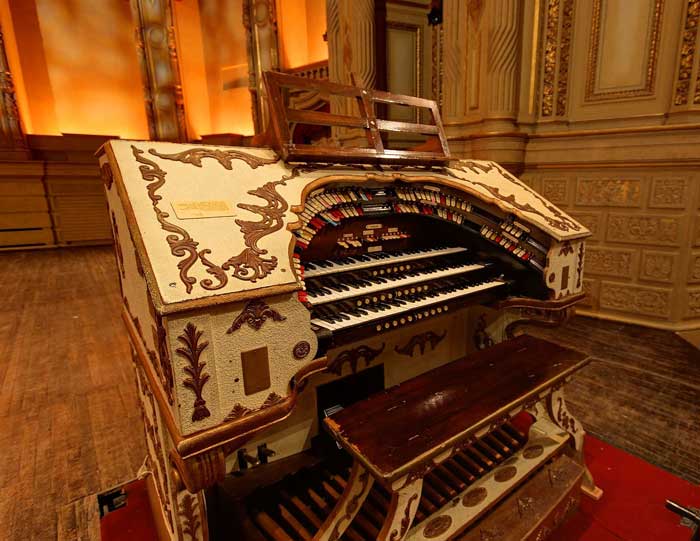 Wurlitzer organ – Orpheum Theatre, Vancouver By Michael Thoeny [CC BY-SA 3.0]
The original theater organ was a pipe organ, which uses pressurized air to create sound. These organs are massive in size, as each pipe only produces a single pitch. Pipe organists use keyboards and pedal boards to control the air moving through the pipes at any given time. The electronic organ is a less expensive alternative to massive pipe organs. These organs also take up much less space. This type of organ mimics the sound of theater organs using electronic components. The organist has the ability to select the type of sound the organ will produce when he or she presses certain keys or pedals. These organs are much more affordable for churches and other groups that do not have the budget or space for a genuine pipe organ.
Organ Types and Components – This guide discusses the differences between pipe and electronic organs. It also explains how all of the components of the pipe organ work together to produce music.
An Overview of the Pipe Organ – This resource explains the components of the pipe organ and how they work together.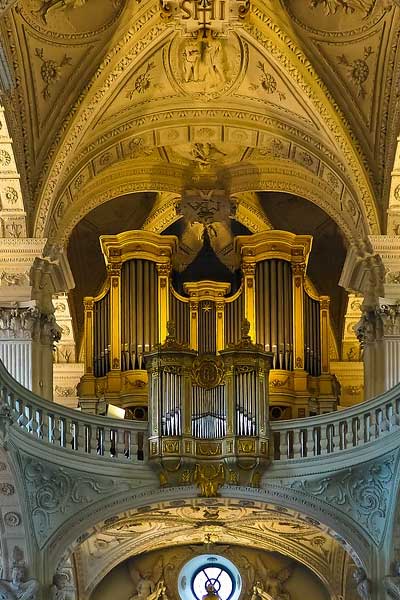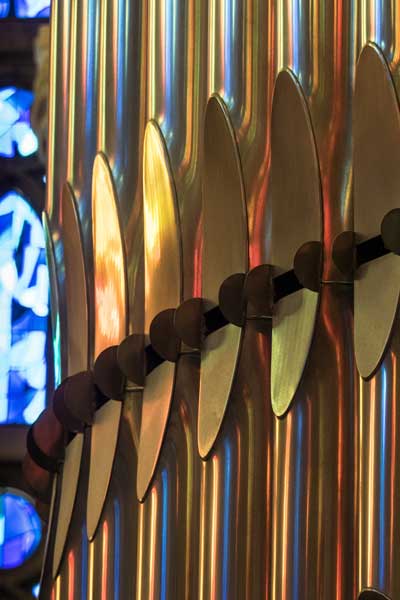 USES OF THE THEATER ORGAN
Movie exhibitors were not the only people to realize the benefits of using the theater organ to add excitement to special events. Some baseball stadiums had genuine pipe organs used to play favorites such as "Take Me Out to the Ballgame." Roller skating rinks, restaurants, ice skating rinks, and museums also used theater organs to attract new customers and set themselves apart from competitors. Churches with buildings large enough to accommodate this type of organ also used theater organs for liturgical music during worship services and special church events. Once the popularity of the theater organ declined, some wealthy people purchased them for their homes. The Biltmore Estate, the home of George Washington Vanderbilt, still has a massive pipe organ that plays classical pieces like Wagner's "Ride of the Valkyries." The organ is located above the Biltmore Estate's luxurious banquet hall, which has seating for more than 20 guests.
Theater Organ Radio – The American Theater Organ Society offers a radio station that plays more than 1,000 theater organ pieces.
Famous U.S.A. Electronic Organists – This resource lists the names of famous electronic organists in the U.S. and links to more information about each person.
Theater Organ Installations – This resource contains a list of theater organ locations in New York, making it easy for New York residents and visitors to see the majestic theater organ in person.
Radio City Music Hall – This article discusses the history of the Wurlitzer theater organ located in Radio City Music Hall.
CURRENT THEATER ORGAN USE
Despite their decline in popularity, there are still some notable theater organs in use today. Radio City Music Hall uses the theater organ during the famed Radio City Christmas Spectacular. This organ is the country's largest original installation organ, as it has four keyboards and 58 sets of pipes. It takes 11 different rooms to hold all of the pipes used by this organ. Atlantic City Convention Hall, Avalon Casino, Weinberg Center, and Rialto Square Theater also have theater organs still in use.
There are also a number of operational theater organs in Europe. Great Britain still has nine theater organs in use, with organs at Dome Concert Hall, Southampton Guildhall Compton, Pavilion theater Compton, Odeon, Hammersmith Apollo, Blackpool Opera House, Stockport Plaza, EMD, and Blackpool Tower. Theater organs are also in use in Germany, Switzerland, and the Netherlands.
Theater Organ Videos – The Garden State Theater Organ Society presents several videos that demonstrate the versatility of the theater organ.
Virtual Theater Organ – This site allows users to learn more about the theater organ using interactive activities.
Silent Film Music and the Theater Organ (PDF) – This article discusses the importance of theater organs during the silent film era.