Fairy tales, a type of short narrative featuring folkloric icons, including gnomes, tolls, elves, goblins, witches, magic, and other forms of enchantment, generally present a belief in supernatural phenomena and may herald underlying moral lessons. Fairy tales also carry a connotation of happiness, especially when addressed in a romantic context. Depending on the geographical origin, some fairy tales merge into a legendary status. More specifically, poltergeist phenomena, sometimes synonymous with demonic activity, holds religious merit. Fairy tales, often found in literary or oral form, have historical influences and cross-cultural origins spanning centuries. While the older fairy tales evolved from the sole intent of sharing with an adult audience, children started to become accustomed to the folklore. Children's and Household Tales, the earliest literary folkloric account and authored by the Brothers Grimm, started the sole intent of reaching a children audience.
LESSON PLANS & WEB QUESTS
This lesson plan from NEH provides a comprehensive guide for teachers about fairy tales throughout the world. It provides a full lesson plan, discusses the plan requirements, and the necessary resources to teach students about this topic.
Hans Christian Andersen's Fairy Tales: An NEH lesson plan with guiding questions, learning objectives, background information, instructions, lesson activities, and extension ideas pertaining to the lesson. It covers the estimated time to cover the lesson plan, subject areas, and suggested skills needed to understand the lesson plan.
The Magical World of Russian Fairy Tales: A comprehensive lesson plan sponsored by NEH that guides teachers to instruct their students on a compilation of Russian fairy tales.
Unicorns, Dragons, and Other Magical Creatures: This lesson plan provided by NEH covers a variety of instructionals to help foster a comprehensive learning experience for students. The curriculum includes assignment questions, learning objectives, lesson activities, less extensions, and outside resources.
Elements of Fairy Tales : An audio lesson plan that helps guide students to understanding the various elements of fairy tales. The lesson plan also includes an audio presentation of the folkloric Cinderella story.
Fairy Tale Science: This resource guides teachers and students through some of the characters and elements that make up fairy tales.
Fairy Tale Book List: A recommended book list from the Needham Library in Massachusetts. Some of the titles include: Chickerella, Peter and the Wolf, Look Out Jack! The Giant is Back, The Gingerbread Man, The Frog Prince, and Letters from Rapunzel..
Fables, Fairy Tales, Stories and Nursery Rhymes: A comprehensive book list of fables, fairy tales, stories and nursery rhymes, including Aesop's Fables, Hans Christen Andersen, Grimms Fairy Tales, Lewis Carroll, Carlo Collodi, Mother Goose and Selected Rhymes.
Fairy Tales: Reading and Research: A comprehensive Internet resource guide that well-known tales, text and annotations to help explain hidden meanings or to help facilitate lesson plans for students.
Reading is Fundamental : Reading List: A comprehensive reading list sponsored by Reading is Fundamental, Inc. The categorized reading list consists of suggested titles targeted for each individual age group.
Hans Christian Andersen: SurLaLune Fairy Tales features 49 different annotated fairy tales online, which helps to redirect students with a computer to a technological resource to read, study, and test for any assigned story.
SurLaLune Fairy Tales: SurLaLune Fairy Tales features 49 different annotated fairy tales online, which helps to redirect students with a computer to a technological resource to read, study, and test for any assigned story.
Children's Library: An online children's library with 71 fairy tale books translated into English. The online version of the selected book consists of a scanned photocopy to allow easy reading if unable to check-out books.
Digitalized Children's Literature: The Library of Congress provides an extensive, digitalized children's literature compilation in PDF format for students to read on their computers.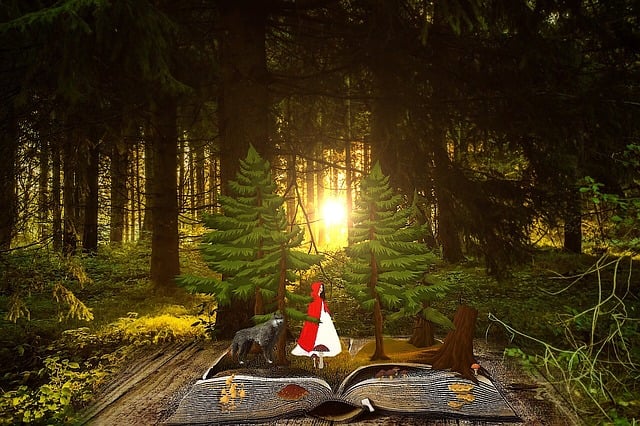 Andersen Fairy Tales: A website dedicated to Hans Christian Andersen's fairy tales. The website includes a featured story, biography, title assortments, coloring sheets, and digitalized games.
Grimm Fairy Tales: A respective website focused on the Brothers Grimm, allegedly the first literary collection of fairy tales focused on children. A student will find a feature story, historical background, Grimm tales, coloring sheets and digital games.
Classic Fairy Tales: A general collection of classic literary fairy tales, including the Brothers Grimm collection and works authored by Hans Christian Andersen.
Fairy Tale Land: Fairy Tale Land presents an assortment of well-known fairy tales, such as the Ugly Duckling, Little Red Riding Hood, Jack and the Bean Stalk, Gingerbread Man, Goldilocks and the Three Bears, Cinderella and Sleeping Beauty.
Myths, Folktales and Fairy Tales: Scholastic presents a wealth of information regarding various myths, folktales and fairy tales. Scholastic provides writing tutorials specifically for fairy tale writing, teacher lesson plans, and a related book list.
Fairy Tales Content: A ready-to-read fairy tale collection for teachers and students. The collection includes classical and unknown titles, such as The Ugly Duckling, Pandora's Box, The Farmer and the Money Lender, and the Fir Tree.
Fairy Tales: A simple website dedicated to four fairy tales, such as the Emperor's New Clothes, Little Red Riding Hood, Snow White and the Seven Dwarfs, and Cap o' Rushers.
A fractured fairy tale takes a well-known fairy tale and twists the plot to create an entirely different story with the many of the same attributes. Many aspects of the story can be changed, such as the perspective, setting, period of time, etc. To identify a fractured tale, look for a clever title with references a well known folklore story, such as The True Story of the Three Little Pigs and The Wolf Who Cried Boy
Fractured Fairy Tales: An interactive template to help guide the user to create a fractured fairy tale. A passive viewer can alternatively read other submitted examples of fractured fairy tales.
The Adventures of Rocky and Bullwinkle Show (1959-1961): Transcriptions of fractured fairy tale examples as aired on "The Adventures of Rocky and Bullwinkle Show (1959-1961).
Fractured Fairy Tales and Fables: John Sciczka presents lesson plans that covers famous fractured fairy tales, such as "The True Story of the Three Little Pigs" and "Squids will be Squids."
Fractured Fairy Tales : A lesson that covers the subject matter of fractured fairy tales with a summary, preparation, presentation, and classroom activity ideas given to help guide teachers and students into a comprehensive study of folkloric satire.
Fractured Fairy Tales: Barack Obama and the Infantile Delusions of the "Progressive" Left: A modern-era article applying the principles of fractured fairy tales while drawing important political issues intensely affecting the nation everyday.
Fractured Fairy Tale: A comprehensive article explaining the importance and relevance of old-time fractured fairy tales in today's cultural environments.
Fractured Fairy Tale List: A fractured fairy tale list with links to each of the fairy tales identified."
Cinderella: A comprehensive compilation covering the folkloric fairy tale known as Cinderella. The website provides various versions, activities, web quests, outside resources, and coloring sheets.
Pandora's Box : A easy to read account presenting the overall dialogue of "Pandora's Box".
Little Red Riding Hood: An online compilation of the many versions of the folkloric fairy tale known as "Little Red Riding Hood."
Dobie's Tales: An automated website that structures a fairy tale based on the personal information of the student
The Fairy Nurse: A fairy tale from Ireland that actually introduces a fairy character into the plot, a rare addition despite its inclusion in the term "fairy tale."
Maria Morevna: A Russian fairy tale with the traditional happy-ending.
Robin Hood: A legend based on a heroic underdog living in poverty that performs an uprising that embarks on a mission to steal the money from the rich and give it to the poor.